Is it a crisp, crumble, cobbler or buckle?  How can you tell the difference? Here is a guide to identifying the difference between these delicious desserts.
All consist of baked fruit that are combined with similar fillings and flavor. What makes these dishes different are the toppings used and the overall structure of the dessert.
Starting with a crisp, it is usually baked with a sugary, streusel-like topping, combined with oats or nuts. This dish may contain any fruit, ranging from blueberries and strawberries in the spring and summer, to pears and apples in the fall.
Next, is the crumble which is very similar to a crisp. A crisp will include almost all the same ingredients as the crisp, minus the oats or nuts.
Third, is the cobbler which contains the same fruit base as the crisp and crumble. What makes a cobbler different is the toppings, most cobblers are topped with biscuits making this dish a little cozier.
Lastly, we have the buckles. Buckles embody more of an old-fashioned dish that closely resembles a streusel. Still baked with fruit, it is also combined with cake batter. As the cake rises around the fruit as it bakes, the weight of the fruit causes the dessert to buckle inwards, hence were the name "buckles" comes from.
This is my favorite, go to berry crisp recipe. It is easy to modify, depending on the berries you have on hand. Add an apple ot it to lend some texture and a bit of tartness.
No one will be able to resist this Summer Berry Crisp and it makes for a perfect summer dish, perfect for backyard bbq's and is very patriotic in red and blue for a 4th of July celebration. Baked with a flavorful, fresh berry mix  of strawberries, blueberries, raspberries and blackberries, it is bursting with natural sweetness. Topped with a delicious oat crumble, containing pure maple syrup, sucanat or coconut sugar makes for a naturally sweet taste, with no refined sugars!
Top off your crisp with scoop of ice cream or whipped cream. It adds to the sweetness creating that delightful berries and cream combination.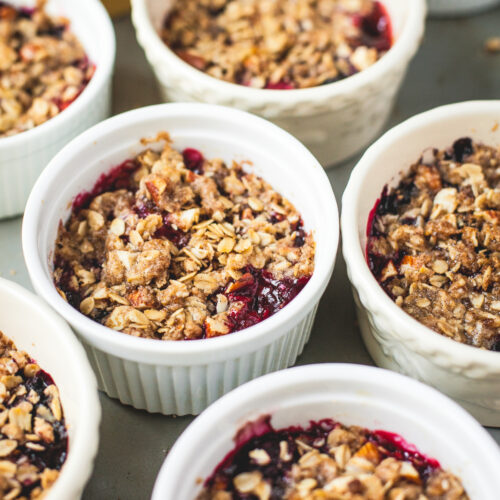 Summer Berry Crisp
Ingredients
Filling
6

cups

mixed berries, combination of strawberries, blueberries, blackberries, raspberries

1

cup

chopped apple, skin on

1

tbs

lemon juice

¼

cup

pure maple syrup

¼

cup

all purpose flour or gluten free flour

1

tsp

pure vanilla extract

¼

tsp

cinnamon
Topping
1

cup

rolled oats

½

cup

all purpose  or gluten free flour

½

cup

pure maple syrup

½

cup

ground sucanat* or coconut sugar*

Optional: 1 cup chopped nuts; pecans, walnuts, sliced almonds

1

stick

cold unsalted butter, cut into small cubes

Optional: whipped cream or ice cream for serving
Instructions
Grease a 9" x 13" baking dish or 2 round glass pie dishes or individual ramekins. Set aside to get started on the filling and topping.
Prepare the Filling
Prepare strawberries by removing stem and with a paring knife, cut the white part out.

Slice lengthwise, in half or quarters if large. Place in large bowl and add remaining filling ingredients.

Gently stir to combine the filling ingredients and place in prepared dish. Set aside.
Prepare the Topping
Combine all of the topping ingredients, except the butter. Stir to combine.

Add the butter and using your fingers, a pastry blender or two butter knives to work in the butter until it resembles coarse meal.   

Sprinkle the topping evenly over the filling.
Bake
Place baking dish or pie plates in the center of the oven until and bake until the fruit is bubbling and the topping is golden brown, about 1 hour. If using individual ramekins, place on baking sheet.

Remove from oven and let cool slightly on a rack.

Serve in dessert bowls with whipped cream or ice cream.
Notes
*Sucanat and coconut sugar are very coarse. You should grind before using.
Nutrition