These simple yet delicious carrot cake bites are gluten free, vegan and are naturally sweetened!
The bites have just the right amount of sweet to satisfy a craving for dessert or eaten as a midday snack. These treats are wholesome, packed with good fat and are an excellent source of vitamins and minerals. Each bite has only about 58 calories.
They taste like chewy, doughy piece of cake and have just enough carrots and spice in them to complement, rather than overpower.
The bites come together in a few minutes, especially if you have a food processor, which I highly recommend purchasing if you don't already have. It will simplify your time in the kitchen and cut down time slicing and chopping.
I make these Carrot Bites with carrots, cinnamon, dates, walnuts, unsweetened shredded coconut and some ginger, cinnamon and nutmeg. Add a splash of vanilla extract and you have a dessert. Make a double batch and freeze them to enjoy later. Top with a drizzle of warmed coconut cream. Best of all, you don't have to turn on your oven!
Peel and shred your carrots, preferably using the grater attachment of your food processor.  If you don't have a food processor or prefer to do this by hand, shred the carrots with a box grater.

Set the carrots aside, wipe clean the bowl of the processor and pulse your dates and walnuts using a blade attachment until they resemble a crumble. Add  the spices, coconut, vanilla and a pinch of salt. Pulse until it comes together in a sticky dough, but not a thin paste. If you find it is too thick, add a drop of water, less than a quarter teaspoon, and process again.
Once you have the desired consistency, remove from the bowl either by scooping out tablespoon sized amounts and rolling into balls or by pressing into a parchment lined baking pan with high sides and then cutting later into bite sized squares. Both result in a little bite of delicious carrot cake but the pan option if quicker, just a matter of if you prefer balls or squares.
With either approach, topping with shredded coconut gives these a finished appearance and adds some texture and flavor. If rolling into balls, toss them in shredded coconut until coated and place on a parchment lined pan. If you opt for the single pan approach, sprinkle the coconut over the cake and press down with a piece of parchment so the coconut sticks to the bites.
For either method, freeze for about 1 hour before enjoying.
Store in an airtight container in the refrigerator for about 1 week or freeze the bites for about 2 months.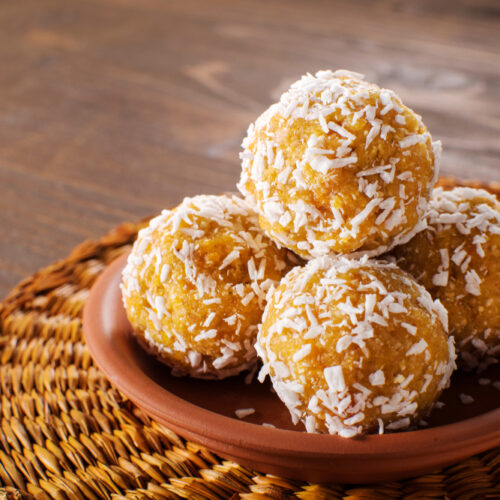 Raw 'No Bake' Carrot Cake Bites
Ingredients
3

cups

shredded carrots, about 4 large carrots

1½

cups

raw walnuts

1

cup

Medjool dates, pitted

1

cup

unsweetened coconut flakes or unsweetened shredded coconut

Plus more for coating

1

tsp

ground cinnamon

½

tsp

ground ginger

¼

tsp

ground nutmeg

1

tsp

pure vanilla extract

pinch of salt
Instructions
Line a 11x13" baking pan with parchment paper, leaving overhand on the sides.

Shred the carrots using a grating attachment of a food processor or by hand.

If use food processor, remove carrots and grating attachment and switch to blade attachment.

Grind the walnuts and dates in the food processor until forms a uniform crumb.

Add carrots, coconut, spices, vanilla extract and salt. Blend again, scraping down sides as needed until sticking together. If too dry and not coming together, add a drop of water and blend again.

To make squares, press the mixture into the prepared pan, smoothing top. Sprinkle with shredded coconut. Place a piece of parchment over the pan and press down to ensure the coconut sticks to the carrot bites.

To make balls, roll tablespoon sized amount of mixture by hand. Fill a bowl or bag with shredded coconut and coat each ball.

Freeze for at least 1 hour. When ready to serve, if opted for squares, cut into bite sized squares, approximately 1-1½" in size. Store in refrigerator in a sealed container for a week. Can be frozen for up to 2 months.
Notes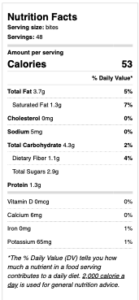 Nutrition