This dish a a favorite as it is easy to make, is versatile and uses any vegetables you may have on hand.
I like to make a batch of Pomodoro Sauce or pesto and top the noodles with a sauce, but you don't have to, it is flavorful on its own.
This week I made it with mini red and yellow bell peppers, carrots, onions and crimini mushrooms. I sautéed the vegetables, except for the zucchini noodles in a little olive oil, finely chopped fresh garlic, some sea salt, pepper and a dash of herbs de Provence. Once the vegetables were beginning to soften, I removed from the pan and cooked the zucchini noodles for just a few minutes, to take the crisp out without getting mushy.
Toss the noodles with the sautéed vegetables and top with halved sweet cherry or grape tomatoes. The tomatoes add a nice texture and flavor that compliments the sautéed  vegetables and noodles.
As most have seen in the market, you can buy already spiralized zucchini, squash and carrots. If you prefer to make them and have a Kitchenaid spiralizer attachment, I highly recommend this method to make the noodles. The results are consistent and you can control the thickness of the noodles, (I prefer a thicker noodle).  Another nice option is the spiralizer, there are hand held and counter top options, they require a bit more manual effort, but result in a nice noodle. The key to getting a nice shaped noodle is to use zucchini that is crisp and firm.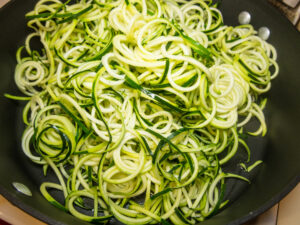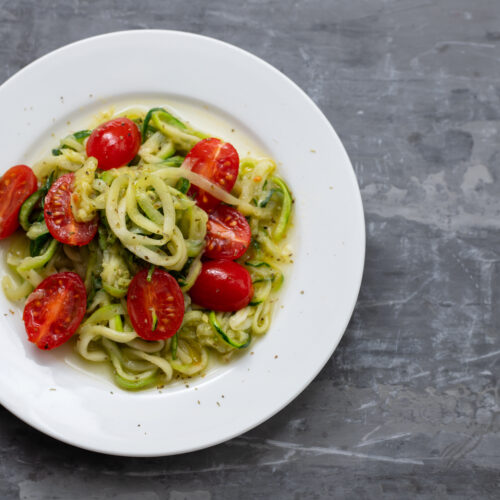 Quick and Easy Zucchini Noodles Primavera
Ingredients
1/4

cup

extra virgin olive oil

1

yellow pepper

1

red pepper

3

carrots

1/2

yellow onion

3

cloves

garlic

1

cup

crimini or white mushrooms

2

zucchini

2

yellow squash

1

tsp

salt, more to taste

¼

tsp

black pepper, more to taste

1

tsp

herbs de Provence

1

cup

cherry or grape tomatoes, halved

1

tbs

fresh basil, chopped

Optional: grated Parmesan cheese

Optional: Pomodoro Sauce or Pesto Sauce
Instructions
Prepare Vegetables

Peel and thinly slice the garlic, lengthwise

Core peppers and remove seeds. Slice into thin strips.

Peel carrots, remove ends and half lengthwise and slice into thin strips.

Slice mushrooms into quarter size pieces, if using whole, rather than pre-sliced.

Halve the tomatoes, set aside.
Bake the Vegetables (except zucchini, squash and tomatoes)
Preheat the oven to 450º F.

Lightly coat a baking sheet with oil

Toss the vegetables with the oil, salt, pepper and dried herbs to coat.

Spread vegetables evenly in a single layer in the baking sheet. Use a second baking sheet if vegetables are too crowded.

Bake until the carrots are tender and the vegetables begin to soften and brown, stirring after 10 minutes. Bake for about 20 minutes total.

Spiralize Zucchini

If purchased pre-spiralized zucchini, skip this section.

Using spiralizer or standing mixer attachment, spiralize zucchini.
Cook Zucchini and Add to Vegetables
Heat a large pan over medium, add a little oil to pan. Add zucchini and squash and toss with oil to combine. Sauté until tender/crisp in 3-4 minutes. Do not overcook as it will become too mushy.

Remove from pan and toss with sautéed vegetables.

Top with sliced tomatoes and basil. Add more salt and pepper if needed.

Option to top with grated cheese, Pomodoro sauce or Pesto
Notes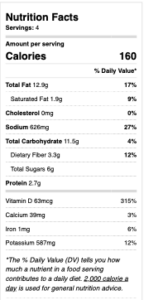 Nutrition