Tzatziki
Greek yogurt dip –  made with cucumbers and fresh garlic.
Making tzatziki is super quick and easy. Traditional Middle Eastern and Mediterranean tzatziki calls for strained goat or sheep yogurt.  Strained yogurt is a type of thickened yogurt. Regular or Greek yogurt is more readily available and makes a delicious tzatziki.
Tzatziki is so versatile, it compliments most any meat, fish, vegetable, grain or bread. The possibilities are endless. To make homemade tzatziki you'll want to strain your yogurt first to have a thicker base. A runny tzatziki is more like a dressing than a creamy dip.  Straining yogurt takes time. If starting with Greek yogurt, it is a few hours and upwards of 14 hours if you are starting with regular yogurt.
If you don't want to wait for time it takes to strain the yogurt, take a shortcut and use Greek yogurt and pour out the yellowish liquid on top of the yogurt (the whey).
If you only have regular yogurt and aren't pressed for time, go ahead and strain the yogurt for about 14 hours to remove the excess liquid.
HOW TO STRAIN YOGURT
To strain yogurt, line a mesh sieve or fine mesh strainer with several layers of cheesecloth, a coffee filter, or several layers of paper towels. Then spoon the yogurt into the lined sieve and place over a bowl to catch the dripping. Let the liquid from the yogurt drip for a few hours. If the yogurt drips in clumps you will need to double up the lining. It takes a few hours to strain Greek yogurt and 14 hours to strain regular yogurt.
USING THE WHEY
The yellowish liquid that comes out of the yogurt is whey. It is full of vitamins, minerals, enzymes and protein. There are so many uses for it, you don't need to throw it away.  Here are a few of my favorite uses for leftover whey.
Add whey to smoothies for a little extra protein.
If you want to be adventurous, use the whey to make ricotta cheese or cream cheese.
Soak grains in whey to make them more digestible.
Use whey as a substitute for other liquids when making pizza dough, pancakes, bread.
Use whey to keep feta cheese fresh.
Use whey to make lacto-fermented vegetables like pickles, kimchi or sauerkraut.
Feed whey to plants for added nutrition.
MAKING THE TZATZIKI
ADD THE CUCUMBER AND OTHER INGREDIENTS TO THE YOGURT
Grate your Cucumbers
Once you have your strained yogurt, from whichever method you choose, it is time to make your tzatziki. Start by grating an English seedless hot house cucumber or a few small Persian cucumbers with a box or other hand held grater. You don't have to peel the skin. If you would like, cut the cucumber into small pieces and give a few pulses in your food processor. English and Persian cucumbers are milder in flavor so I prefer to use them for a great tasting tzatziki. Regular cucumbers have a waxy exterior and can taste bitter. For a chunkier tzatziki, cut the cucumber into 1/4 inch pieces.
Remove the Excess Liquid from your Cucumbers
To avoid a runny tzatziki sauce, squeeze the liquid out of the grated cucumbers. There are a few options:
-place the cucumber in a clean cloth towel and squeeze out the liquid;
-use your hands to squeeze the liquid out of the cucumber, a batch at a time over your sink or a bowl;
-press the grated cucumber into a fine mesh strainer or sieve over your sink or a bowl.
Combine Yogurt, Cucumber and other Ingredients
Transfer the cucumber to a serving bowl and pour the strained yogurt over it. Add to it the zest of 1 lemon, lemon juice, minced fresh garlic, salt and chopped fresh dill.
If you only have dried dill on hand, it is okay to substitute with the fresh for dried dill. The flavor will be a little less pronounced and the color won't be as vibrant, but the taste will be still be delicious. Use a teaspoon of dried dill for one tablespoon of fresh dill.
To add some more flavor to the tzatziki, drizzle with some extra virgin olive oil and a sprinkling of fresh chopped mint. The flavors of tzatziki come together if it sits for a while before eating.
WAYS TO ENJOY TZATZIKI
The possibilities for tzatziki are endless. Tzatziki can be used as a sauce for fish, on a sandwich, with  garlic roasted herbed potatoes and on sautéed vegetables. Or simply, serve as an appetizer with toasted pita chips and raw vegetables.
Refrigerate any unused tzatziki in a sealed container and enjoy within a few days.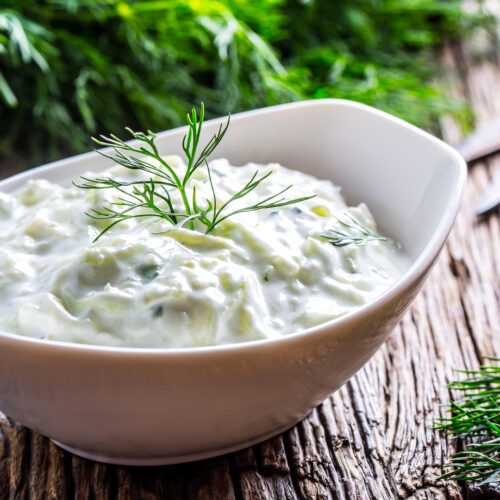 Easy Delicious Tzatziki
Ingredients
1

English (hothouse) cucumber or 2 Persian cucumbers

1½

cups

plain Geek yogurt, whole-milk, low-fat or non-fat

2

tbs

fresh dill, chopped or 2 tsp dried dil

1

tsp

lemon zest plus 1 tbs fresh squeezed lemon juice

2

medium garlic cloves, finely minced

½

tsp

sea salt
Topping
1

tbs

extra virgin olive oil

1

tbs

fresh dill or mint chopped
Instructions
Grate the unpeeled cucumber using a box or other hand held grater. Remove the excess liquid out of the cucumber by squeezing it in a clean towel, or pressing into a fine mesh strainer. Alternatively can grate using a food processor or finely chop by hand into ¼ inch pieces.

Squeeze the liquid out of the cucumbers using a clean cloth towel, your hands or by pressing into a fine mesh sieve.

Transfer the cucumber to a serving bowl and add to it the strained yogurt, dill, lemon juice, garlic and salt. Stir to combine.

Drizzle with the olive oil and sprinkle top with the dill or mint. Can leave oil and mint on top or stir into tzatziki.

Let the tzatziki rest for at least 5 minutes to allow for flavors to come together.

Serve with fresh raw vegetables (such as sliced cucumbers, cherry tomatoes, celery) and with toasted pita that has been cut into triangles and brushed with olive oil.
Nutrition