This delicious chickpea and fennel stew is the ultimate Greek inspired comfort food and offers a hearty vegan option if you are looking to take a day off of meat, fish or dairy. Not only is this stew easy to prepare, but it's such a simple way to incorporate more vegetables into your diet. Everything goes onto a sheet pan and into the oven to roast. The use of tomatoes turns this from a roasted vegetable side dish to a hearty main course.
The combination of eggplant, tomato, zucchini, chickpea and fennel makes for a
nutritious meal filled with plenty of protein, fiber and iron. Cooking the the vegetables with onion and garlic  will wake up your taste buds. This is the kind of stew that you can use almost any vegetable you have in your refrigerator or if you have things that are about to go bad and want to do a refrigerator clean out. Especially during these uncertain times, we may not all have access to the same produce. Substitute with cauliflower, carrots, Brussels sprouts, green beans, asparagus or parsnips to name a few. And what is better than a comforting, nutritious, single pan meal.
This chickpea and fennel stew is hearty enough to enjoy by itself or pair it with cooked chicken, lentils, rice, quinoa or couscous.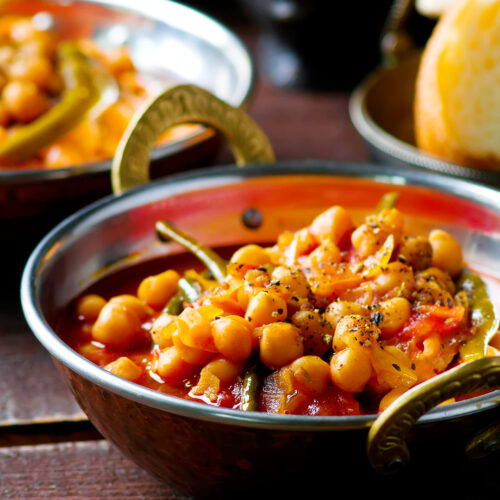 Sheet Pan Chickpea and Fennel Stew
Equipment
Sheet Pan or roasting pan with high sides
Ingredients
1

medium

eggplant, peeled if you prefer, and cut into large chunks

1-2

zucchini or yellow squash, cut into large chunks

6

plum tomatoes, cored and chopped, juices reserved or 1 28-ounce can, drained, reserving the liquid

1

onion, sliced thin

2

bell peppers, red, yellow or orange. Cored, seeded and sliced.

1

fennel bulb, trimmed and cut into large chunks

5

garlic cloves, halved

¼

cup

extra virgin olive oil

t

tsp

coarse salt, plus more to taste

ground pepper to taste

3

cups

cooked or canned chickpeas, drained and rinsed

1

tbs

fresh thyme or rosemary, chopped or 1 tsp dried

Optional - grated Parmesan cheese
Instructions
Line a sheet or roasting pan with foil. Combine all ingredients except oil, chickpeas, herbs and reserved liquid in a large roasting pan. Drizzle with olive oil and salt and pepper. Toss to combine.

Transfer to oven and roast, stirring occasionally, until vegetables are lightly browned and tender and some water has been released from the tomatoes to create a sauce, 30 to 40 minutes.

Add chickpeas, stir and return to oven until beans heat through, 5 to 10 minutes. Add herbs and stir to combine. Taste and adjust seasonings.

Warm reserved liquid and pour over the chickpeas and vegetables.

Option: sprinkle with grated Parmesan cheese.
Notes
This recipe can be customized based on preferences and what you have on hand. Can substitute/add Brussels sprouts, carrots, parsnips, celery, asparagus, green beans.
Can be served over cooked chicken, lentils, rice, quinoa, couscous for a heartier meal.
Nutrition