The aroma of Nonny's Meatless Tomato Sauce will get your family to the dinner table faster than any
other. In our family, gravy is the name used for any red sauce. When I began writing this post I was using the word  gravy, but thinking it may be confusing as traditionally gravy has meat in it, typically pork or ground beef. So for this recipe, I will refer to it only as sauce.
Whether you call it gravy or sauce … this is a delicious addition to your Sunday dinner or any meal with the family.
This recipes takes only a few minutes to prep – dicing an onion and mincing some garlic, sauté for a few minutes, add the tomatoes to the pan and then let it simmer on the stove until it reaches the desired thickness. It's that simple.
TOMATO (RED) SAUCE, MARINARA or GRAVY?
Can you use these terms interchangeably? It seems that the answer is both yes and no. It varies by family and by region. And, in Italy, there isn't a word for what we refer to as gravy. Sauce is called salsa or ragu to name a few.
Though we cannot agree on what to call it, there does seem to be agreement that there are differences between the three. Here is a quick breakdown of what makes a red sauce a Sauce, a Marinara or a Gravy. These descriptions are definitely subject to variations and are only offer a small snapshot into what makes them different.
Marinara is a quick sauce, has chunkier pieces, a fresher, lighter taste, and is made with chopped tomatoes, garlic, a red pepper flakes and seasonings such as basil and salt.  Some use anchovies in their marinara. I leave anchovies out of mine.
Tomato sauce  is thicker and is simmered for a long time, often 3 or more hours. It contains sautéed onions and sometimes other vegetables like carrots. The flavor is more mature and it is much smoother than a marinara.
Gravy is a meat sauce,  a single type of meat or combination of pork ribs, sausage or ground beef are slow cooked with the tomatoes. The result is a rich, flavorful sauce with incredibly tender meat.
When finished, sauce and gravy will be smooth and heavier, while marinara is often left chunky and is lighter.
This recipe for Nonny's Meatless Tomato Sauce  is delicious and very versatile. It is a thick hearty tomato sauce and is best paired with Nonny's Meatballs or your favorite pasta. This complex tomato sauce achieves its peak flavor from the combination of plum tomatoes, sautéed onions, sautéed garlic, fresh basil and a bay leaf. The ingredients all work together perfectly to create an exceptionally flavored sauce.
What Type of Pan?
Non-reactive cookware such as stainless, lead and cadmium free non-stick pans and enameled cast iron are good options for making tomato sauce.
Reactive pans such as uncoated cast iron or aluminum are not recommended as they react with tomatoes and result in bitter, metallic tasting sauce. Aluminum can react with the acidic tomatoes and leech into your sauce causing possible health concerns.
What Tomatoes Should I Use?
Whole canned plum tomatoes work best for this sauce. They offer rich flavor, tender texture, and mild acidity. Fresh tomatoes can be used, but keep in mind that they need to be peeled and seeded and they are less flavorful than canned.
I crush the tomatoes in my hands before adding them to the pan, but feel free to remove the tomatoes from the can, reserving the juices, and chop with a knife, in a blender or food processor with a few pulses.
Growing up, this sauce was a staple in our kitchen and I would grab a piece of Italian bread and dip it in the sauce while it was simmering. This was, and still is, my favorite way to enjoy it.
Freezing the Sauce
This sauce freezes well, so make a double batch and save it for another day when you are pressed for time. Keep in mind, if freezing in plastic, the containers will turn red. To avoid this, spray the inside of the plastic containers. Sauce can also be stored in freezer bags, making sure to let it cool first, not overfilling the bags and letting out the air before sealing the bag.
I prefer glass storage to plastic, so I freeze my sauce in mason jars.  To avoid cracking, follow these simple steps:
1. do not overfill the jars, the sauce expands when frozen so leave room at the top for expansion. Only       fill about 2/3.
2. leave the lid a bit loose until the jars are completely frozen, then tighten completely.
Thawing the Sauce
To thaw sauce that has been stored in a mason jar, simply remove the jar from the freezer and place in refrigerator a few days before using. If you are in a hurry and have not planned ahead like I do most days, place the frozen jar in cool water to let thaw slowly without extreme temperature change. Once the sauce loosens from the edge of the jar, empty the contents into a pan and heat until warm, or place in a microwaveable dish and defrost and heat.
For more tips on freezing and thawing in glass, follow this link, Freezing and Thawing Sauce and Soup in Mason Jars.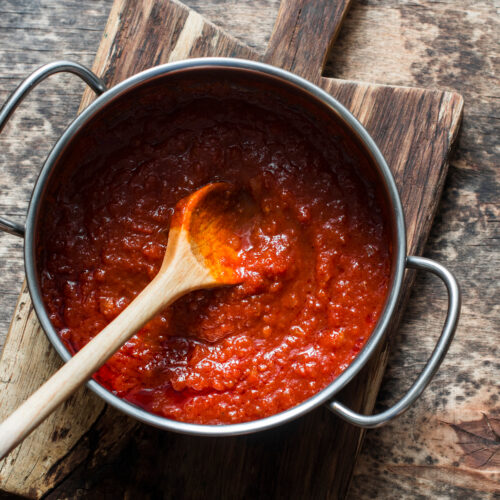 Nonny's Meatless Tomato Sauce
Equipment
Large skillet or wide bottom pan.
Ingredients
1

tbs

extra virgin olive oil

1

small yellow onion, finely diced

2-3

cloves garlic, finely minced

1

28 oz can, whole peeled plum tomatoes

1

bay leaf

¼

tsp

salt plus more to taste

ground pepper to taste

3

tbs

fresh basil, chopped or 1 tbs dried

2

tbs

unsalted butter, optional
Instructions
Chop the Onion and Mince the Garlic. Set aside.
Sauté the Onions and the Garlic
Warm 1 tablespoon of olive oil over medium-high heat. Add the onions and sauté until softened and translucent, 5 to 7 minutes. Stir in the garlic and sauté until fragrant, about 30 seconds.
Crush the Tomatoes if Using Whole and Add to the Pan
Remove the tomatoes from the can, reserving juices. Crush the tomatoes in your hand as you add them, or smash them against the sides of the pan. Add the juices and stir. *Option to crush the tomatoes using a blender or food processor by giving a few pulses.

Add the bay leaf, salt and pepper.
Simmer for 60 minutes to 2 hours
Bring the sauce to a rapid simmer, then lower the heat to medium-low to maintain a gentle simmer. Continue simmering until the sauce is reduced and thickened.

Remove the bay leaf. Add salt and pepper to taste. Add the basil and stir. If you plan to freeze it, hold off on adding the basil until right before serving.

Option to transfer a small amount of cooled sauce at a time to a blender or food processor and pulse until smooth, or use an immersion blender.

If sauce tastes acidic, option to add a drizzle of olive oil or add 1 tablespoon at a time of unsalted butter to the sauce to round out the flavor and give it a velvety texture and sheen.
Nutrition