Pesto Poppers are one of my favorite vegetables to make. They come together quickly, are a wonderful snack, an impressive appetizer or a nice side dish and the filling options are endless.
For this recipe, I filled mini sweet peppers with a basil pesto. The poppers and pesto take only a few minutes to prep and 10 minutes or so to bake. You can also make this using large red, orange or yellow peppers. If you do use a larger pepper, increase the cooking time by a few minutes to ensure the thicker skin softens up and let cool before slicing to keep the filling from seeping out.

Adding cream cheese, sun dried tomatoes and walnuts to this filling takes it to another level.
Traditional pesto is a blend of fresh basil, garlic, pine nuts, extra-virgin olive oil, and Parmesan cheese. With a blender or food processor, it comes together in just a few steps:
Lightly brown, for a minute or two, the pine nuts in a hot dry pan over low heat to bring out the nutty flavor and remove any metallic taste the pine nuts may have.  They burn quickly, so keep a watchful eye on them. Let cool before adding to blender or food processor.
Pulse the basil, spinach, nuts, and garlic in the blender or food processor until they are finely chopped. The spinach gives the pesto a slightly milder flavor and adds beautiful green color. If the mixture is not blending, add a tablespoon or two of olive oil.
Drizzle in the olive oil with the blender or food processor running.
Add grated Parmesan cheese and pulse a few times until combined. For vegan pesto, simply skip the cheese. Taste and add salt if needed.
Add a little more oil, a tablespoon at a time if the pesto is too thick.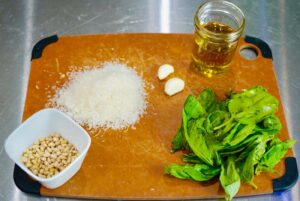 For the Pesto Poppers, a slightly thicker pesto is preferable to keep it from seeping out of the peppers.
Slice your peppers lengthwise in half and remove the white seeds. The small peppers have very few seeds and they are usually only at the base of the stem. I like to keep the stems on, but this is personal preference, remove the stems if you would like.  Rinse and dry the peppers set aside until ready to fill with the pesto filling.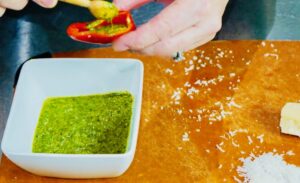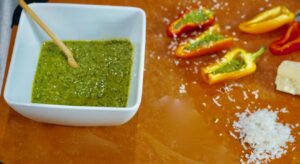 Fill the peppers with about 2 teaspoons of filling. Place on a baking sheet and sprinkle with some Parmesan cheese. For an easier clean up, line the pan with parchment paper. Bake for about 10 minutes until pesto has set and the skin of the peppers looks like it has softened.
Before serving, add a sprinkle of cheese, a few pine nuts and a basil leaf to each popper!
Enjoy!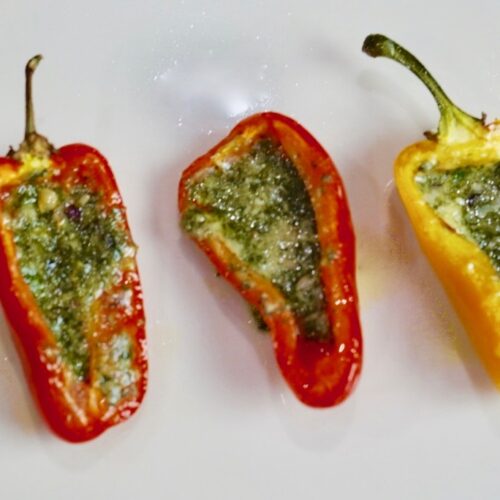 Pesto Poppers
Equipment
Blender or Food Processor

Baking sheet
Ingredients
Pesto
2

cups

packed basil leaves, washed and stems removed

1

cup

baby spinach leaves, optional

2

tbs

pine nuts

2

cloves

garlic

1/2

tsp

Kosher salt + more to taste

1/2

cup

freshly grated Parmesan cheese

1/2

cup

extra virgin olive oil + more if needed
Pesto Poppers
1

lb

mini sweet peppers

1

tbs

extra virgin olive oil, for drizzling

1

tbs

freshly grated Parmesan for sprinkling
Instructions
Pesto
Remove stems from basil leaves and spinach, wash and dry with a clean cloth. Place in blender or food processor.

Place pine nuts in a dry pan and over low heat, toast until very lightly brown. Remove from pan and set aside to cool. When cool, place in blender or food processor

Peel cloves of garlic. Place in blender or food processor.

While running, slowly pour olive oil into top of blender or food processor in a steady stream.

Add Parmesan cheese and give a few pulses to incorporate.

Test for seasoning and add salt if needed and more oil if too thick. Set aside until ready to use for poppers.
Pesto Poppers
Line a baking sheet with parchment paper. Set aside.

Slice peppers in half lengthwise. Remove seeds and option to remove stem. Rinse under cool running water. Dry and set aside.

Fill each pepper half with a spoonful of pesto. Approximately 1/2-1 tbs, depending on size of pepper.

Place on parchment lined baking sheet.

Drizzle top with oil and sprinkle with Parmesan cheese.

Place in oven and bake for 10-14 minutes, checking after 10. Peppers should look soft and slightly translucent and pesto should be darker and set.

Remove from oven, let cool and serve with or without additional garnish of basil leaf, pine nut and some more cheese.
Nutrition