Sheltering at home has pushed us to cook more frequently and expand our repertoire. Recipe chain emails are being shared with friends, family and strangers around the world. I hear from friends who were cautious cooks that they are creating beautiful meals for their family and are so proud of taking culinary risks.  Is everyone baking bread?
Rather than serve only noodles for dinner,  I topped Cold Sesame Peanut Noodles with an Asian Inspired Slaw Salad, using what I had on hand; cabbage, fennel, carrots and endive.  Edamame, peas, celery, shredded broccoli make a delicious salad. It is all in the crunch and the dressing.
Chopped chicken breast or salmon is delicious with the noodle – slaw combination, but for last night, we opted to skip the meat and fish.
This version of cold noodles is easily modified to include whatever noodle you have on hand. For those watching carbs, it tastes great with Shirataki Noodles, made from the konjac plant. I used a combination of whole wheat spaghetti and Shirataki (cooking them separately), as this was all that I had on hand.
When making the sauce, if it is too thick, whisk in hot water, one tablespoon at a time until it is creamy and the texture of a dip or hummus.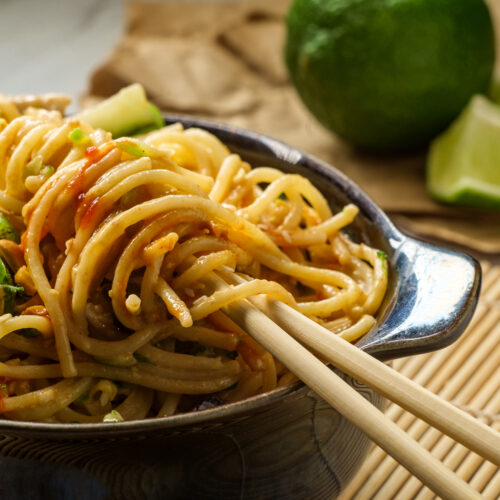 Cold Sesame Peanut Noodles
Ingredients
10

ounces

Chinese egg noodles, thin spaghetti or pad thai– style rice noodles

1

tbs

peanut oil

⅓

cup

peanut butter

1/2

tsp

toasted sesame oil

3

tbs

rice vinegar

1/4

cup

reduced sodium soy sauce or tamari

2

tsp

toasted sesame seeds plus more for garnish

1

tbs

honey

2

tbs

fresh ginger, grated or 1 tbs ground ginger

2

cloves

garlic, minced or 1/2 teaspoon garlic powder

1

tsp

red pepper flakes, more or less to taste

1

tbs

sweet or hot chile sauce, to taste

1

English or 4 Persian cucumbers, thinly sliced and quartered

1

scallion or green onion, green part only, thinly sliced

1/4

cup

salted roasted peanuts, chopped

1/4

cup

fresh mint leaves, chopped

1

lime, quartered for serving
Instructions
Bring a large pot of water to a boil. Add noodles and cook about 8 minutes; they should be a bit chewy. Drain, rinse with cold water, and once cooled, toss with the peanut oil. To speed up the cooling off of noodles, can transfer to a bowl of ice water and let soak for 5 minutes until chilled. Drain again before tossing with the peanut oil.

In a large bowl, whisk together the peanut butter, sesame oil, rice vinegar, low sodium soy sauce, sesame seeds, honey, ginger, garlic, red pepper flakes and chile sauce.

Add the chilled pasta to the sauce, fold in half of the cucumber, half of the scallion and half of the peanuts. Toss to coat the noodles.

Divide into serving bowls. Garnish with cucumber, scallions, peanuts, mint and toasted sesame seeds and a squeeze of lime.
Nutrition