If you're looking for a summer recipe that's bursting with flavor, mini berry galettes, or rustic, free-form pies are perfect for you. The sweet fresh berries are baked into flaky pie crust that have been dusted with sugar. They are easy, to make, you wrap the dough around the edges of the filling and bake on a sheet pan. No special pan or pie dish is needed.
To prepare these mini galettes, (or one large rustic pie if you prefer), you'll prepare and chill your dough. Once the dough is chilled, transfer to a lightly floured surface. Cut the dough into 8 pieces and roll out each piece of dough until it's 7-inches round, 1/8-inches-thick and then place the rounds on a parchment lined baking sheet. Go ahead and chill your dough by placing your baking sheet with the rolled out circles of dough back in the refrigerator until you are ready to bake your galettes. Once ready to bake, you'll toss your blueberries, raspberries and blackberries in a bowl with cornstarch and granulated sugar, to create your filling.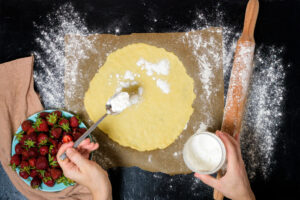 Lastly, you're going to divide the berries mixture evenly among the pies, placing it in a mound in the center of the dough. Carefully fold the crust edges up, overlapping them as you go, like an accordion, leaving an opening in the center. Brush the pies with an egg and water wash to give it shiny golden crisp crust, For the final touch, zest lemon over each galette.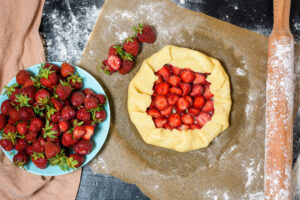 Galettes can be modified based on the fruit you have on hand. Stone fruits such as peaches and nectarines are in season and make a delicious galette. Try combining fruits. If the fruit has a lot of liquid, be sure to add enough cornstarch to absorb some of the liquid so your galettes don't leak.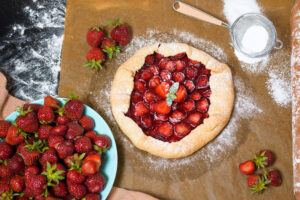 mixed berry galette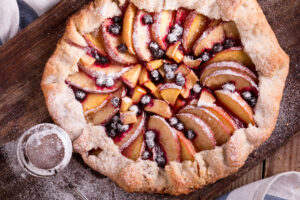 peach and berry galette
Once the galettes are cooled, you can serve them warm or cool with a dollop of ice cream or whipped cream for an incredible taste.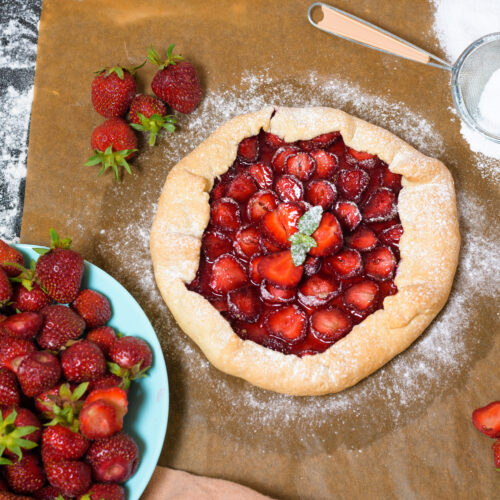 Mini Berry Galettes
Ingredients
Pastry dough
2½

cups

all-purpose flour

½

teaspoon

salt

1

teaspoon

sugar

1

cup

(2 sticks) cold unsalted butter, cut into small pieces
Filling
all-purpose flour, for dusting

5

pints

combined blueberries, raspberries, blackberries (about 6 cups total)

¼

cup

cornstarch

2

cups

unrefined cane sugar

1

lemon, zested

1

egg

1

teaspoon

water

coarse sugar, for sprinkling
Instructions
Make the dough
Put flour, salt, and sugar in bowl of a food processor, and pulse to combine.

Add butter, and process for about 10 seconds, or just until the mixture resembles coarse meal.

Add ice water, tablespoon by tablespoon (1/4 to 1/2 cup), through the feed tube with machine running, just until the dough holds together without being wet or sticky; do not process more than 30 seconds.

Test the dough at this point by squeezing a small amount together. If it is crumbly, add a bit more water.

Wrap the dough in plastic wrap, using a rolling pin to flatten into a disk.
Make the galette rounds
Divide dough evenly into 8 pieces.

On a lightly floured surface, roll out each piece to a 7-inch round, 1/8 inch thick.

Transfer rounds to 2 large parchment lined rimmed baking sheets, arranging several inches apart. (If rounds become too soft to handle, refrigerate until firm, about 20 minutes.)
Make the filling
In a large bowl, toss to combine berries, cornstarch, and granulated sugar.

Cover each round of dough with a heaping ½ cup berry mixture, leaving a 1-inch border.

Fold edges over filling, in a pleated, accordion style, leaving an opening in center.

Gently brush water between folds, and press gently so that folds adhere.

Zest lemon over each galette.

Refrigerate or freeze until firm, about 30 minutes.
Bake the galettes
In a small bowl, mix egg with water. Brush edges of dough with egg and water mixture, and sprinkle with coarse sugar.

Bake until crusts are golden brown, about 30 minutes. Reduce heat to 375º F, and bake until juices bubble and start to run out from center of each galette, about 15 minutes more.

Transfer to a wire rack, and let cool completely before serving.

Serve with ice cream or whipped cream.
Nutrition