Homemade coconut almond chocolate chip cookies are loaded with shredded coconut, almond flour, dark chocolate chips, coconut oil, flaky salt and pure vanilla extract for a delicious twist on the traditional chocolate chip cookie.
The thing about these cookies, they are sweetened with maple syrup. With no refined sugars used, they are exceptionally healthy and also using almond flour makes them gluten free. If dairy free chips are used, they can be vegan as well. If preferred, you can even roll the dough into balls, refrigerate them, and eat them raw. The amount of sweetness can be adjusted by playing with the amount of maple syrup, depending on your preference.
They come together in a few minutes making them a super quick and easy dessert. The trick to them holding their shape is to refrigerate or freeze the dough. It can be done by placing the whole batter to be chilled or forming into balls on the baking sheets and then chilling.  It makes a huge difference in how these cookies turn out.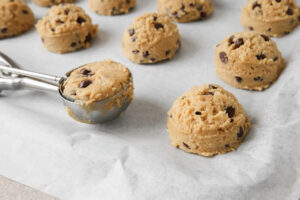 I like to top them with a pinch of flake salt, a few extra chips and a sprinkle of coconut right before baking.
If you don't have flake salt on hand, any coarse salt will do. Use sparingly, a flake or two goes a long way to giving these cookies that scrumptious balance of sweet and salty.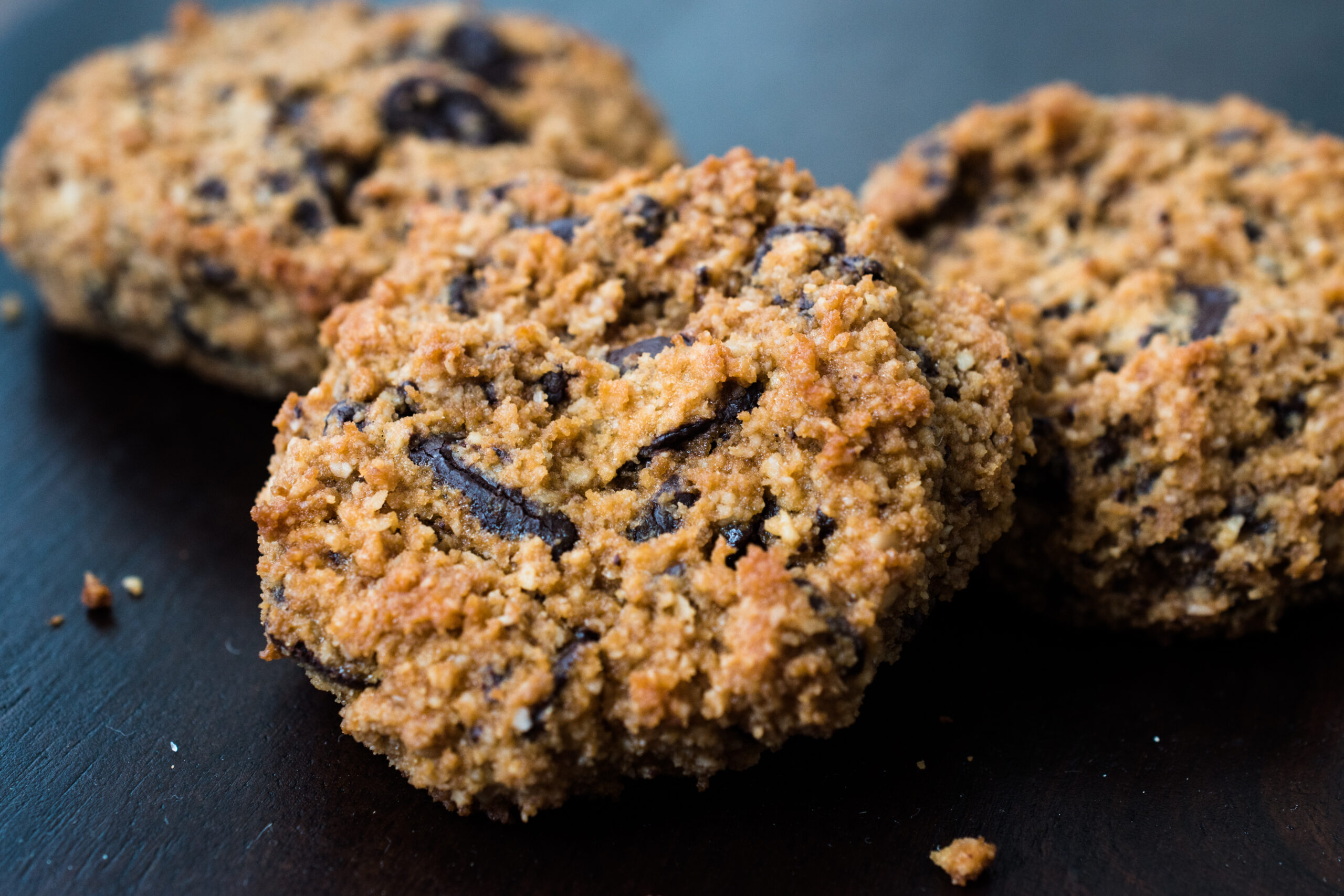 Coconut Almond Chocolate Chip Cookies
Ingredients
COOKIE
6

cups

blanched almond flour

2

tsp

baking powder

4

tsp

flax seed meal

1

tsp

fine salt

2

cups

dark chocolate chips

2

cups

shredded unsweetened coconut flakes

⅔

cup

coconut oil, melted

2½

cups

pure maple syrup

2

tbs

pure vanilla extract
TOPPING
coarse or flake salt

unsweetened coconut flakes

dark chocolate chips
Instructions
Preheat oven to 325ºF. Line several baking sheets with parchment paper. Set aside.

In a large bowl, whisk almond flour, baking powder, flax seed meal and salt.

Add chocolate chips and coconut flakes and stir to combine.

Add coconut oil, maple syrup and vanilla to the dry ingredients. Mix well to

combine.

Refrigerate the cookie dough for 30 minutes, or place in the freezer for 15

minutes. You can either refrigerate the cookie dough in the bowl or form into

cookies and refrigerate the baking sheet with the cookies.

To shape the cookies, form into tablespoon sized balls for small cookies or 1⁄4 cup

for large cookies and place on parchment lined baking sheet, about 2 inches

apart. Do not overcrowd pan. Typically no more than 8-10 small cookies or 6

large for each baking sheet.

Press down lightly on each cookie to slightly flatten. Top each cookie with a few

more chocolate chips, coconut flakes and sprinkle with coarse or flake salt.

Bake for 8-10 minutes, or until slightly golden.

Cool pan on baking rack until ready to enjoy.

These cookies will keep well if refrigerated or frozen in an airtight container. Once refrigerated or frozen, let cookies come to room temperature before enjoying!
Nutrition